The answer to why you'd need a Cryptocurrency mixer may vary for each person, however the factors which make a mixer better than the other remain the same. Hence the pros and cons of Smartmixer is what we'll weigh throughout this Smartmixer.io review.
In addition of making this into a review, I've also included a detailed video on the entire process (<2mins). of how to mix Bitcoin using Smartmixer, so you know how to use it once you're done with this review!
Before diving deeper into this Smartmixer.io review, let's peek at how exactly Smartmixer functions, especially considering how it has a different working-structure than other mixers.
For example, in this mixer we'd be answering the following questions:
These questions I believe would help you get a pretty detailed analysis of the mixer and help you decide if it's something you wish to go with?  Let's get started!
How does Smartmixer.io Make your coins Anonymous?
Smartmixer.io has this unique concept of using not just one, but three separate coin-pools. Coin-pools are basically the coin-reserves which a mixer uses to send clean coins to users.
So when a user sends his/her unclean coins to Smartmixer, these coins are stored in an appropriate coin-pool, and the user is sent different coins from one of the pools. These new coins are in no way linked to the older coins sent by the user.
Users get to choose the exact coin-pool they'd like to receive the coins from, it depends on the service fee a user chooses to pay.
The three pools offered by Smartmixer are: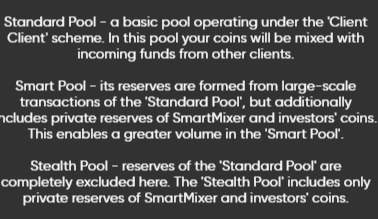 Standard Pool: The most common pool for any mixer. Comprises of coins from other users. Is the cheapest pool.
Smart Pool: Is the most volume-rich pool, as it comprises of coins from other users (standard Pool) + Smartmixer's reserves + Investor's money.
Stealth Pool: Isn't as volume-rich as Smart Pool, but is a lot more anonymous and "clean". Only holds coins from the company reserves and investor's money. No unclean coin from other users get sent here. Also costs the highest service fee.
These pools are what impressed me most about Smartmixer (in addition to a couple more features). What this establishes is the new coins will be clean and anonymous, period.
But what about the other features that a mixer should offer? Let's take a look at them:
Smartmixer.io Overview
Here's a summary of this entire Smartmixer.io review in the briefest possible form:
Clearnet Website: https://smartmixer.io
Fee:

User Controlled, 1-5%

.
Minimum Deposit:

0.001 BTC

Maximum Deposit:

100+ BTC.

Additional Addresses:

8 (User Controlled).

No Logs Policy:

Yes (Auto Delete After 24 Hr.)

Registration Required:

No

Coins Supported: Bitcoin, Bitcoin Cash, Litecoin, Ethereum (coming soon).
Which Coins can be Mixed with Smartmixer.io?
You may have noticed instead of calling it a "Bitcoin mixer", I've been referring to it as the "Cryptocurrency" mixer.
That's because it supports the mixing of a number of coins in addition to Bitcoin. Infact, it probably is the only mixer in the industry with such a diverse mixing-portfolio.
Smartmixer.io lets users mix:
Bitcoin
Bitcoin Cash
Litecoin
"Ethereum" as a soon-to-be-accepted coin.
Is Smartmixer.io Anonymous?
Anonymity is something I pay prime attention to when reviewing these mixers, else what's the point?
Smartmixer does seem like one of the most anonymous mixers in the industry, pertaining to the fact that:
It doesn't need registrations. No personal information is asked for either.
It doesn't keep any logs either. All logs are only kept for 24 hours to provide support. These logs too can be deleted earlier than this 24 Hour period by users manually.
It can be accessed over Tor (URL provided in the overview).
If you ask me, I personally do not see any privacy or identity-loopholes so far. Do you?
How to Mix Coins with Smartmixer?
It's anonymous, and feature-rich. But is it also easy to use? Apparently it is. The best part about the platform is that the platform is made for the first-timers and not just dedicated to the frequent mixers.
Here's the mixing-interface: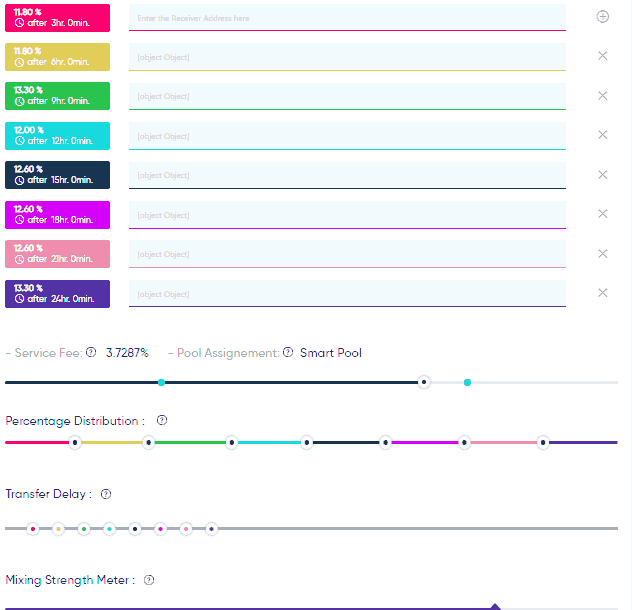 As is evident, there are no technicalities. The exact process can be outlined as: Add your Bitcoin Address (s) -> Add a Time-Delay -> Choose the Percentage Distribution -> Deposit Funds. Done
Here's a video explaining the steps which should get you an idea on the ease of the process:
(You should also download the "Letter of Guarantee" and verify it before making payments).
It even has a "Mixing Strength Meter" which indicates how anonymous your mix is based on the values you've selected (fee/delay/distribution etc). Solutions to make the mix more anonymous are offered as well. It's useful for those who're completely new to coin-mixing and could use the extra indications.

In a nutshell, mixing your Coins and making them anonymous with Smartmixer isn't as technical or geeky a task as it may sound.
How many Additional Addresses does Smartmixer.io Support?
Additional addresses are where a mixer sends the clean coin outputs. More the number of addresses, more anonymity can be achieved for the coins.
That's simply because with more addresses, the clean coins are sent out to multiple addresses which makes them harder to be tracked.
Additionally, it would also mean that the total funds get split into many smaller parts so they can be sent to each additional address, hence this difference in the unclean input of the coins, and the clean output further adds anonymity.
Smartmixer.io supports as many as 8 additional addresses for each mix.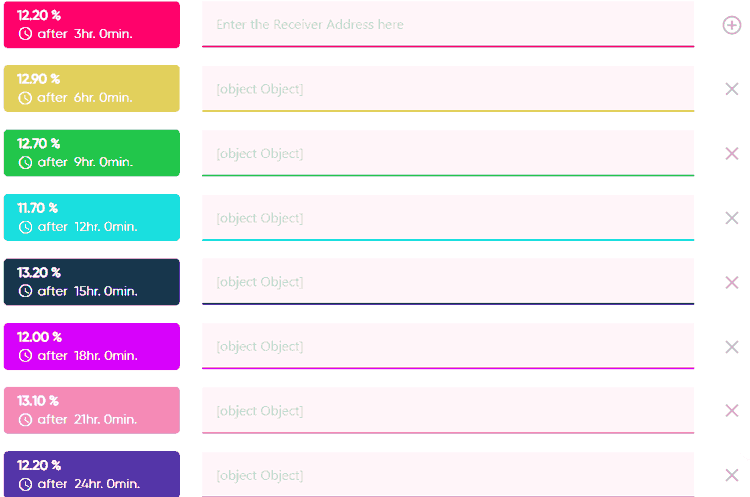 Does Smartmixer.io Allow Time-Delays? Are they User-Controlled?
Time-Delays are another anonymity-enhancing feature. This is the delay between a user's input and the mixer's output.
Instant input-output transactions may be linked to each other in certain cases. However, if there's a delay between the input and the output, it makes things a lot more private.
Smartmixer.io allows 100% user-controlled delays. Meaning, users not only control the delays, but also control the individual delays for each additional address.

Does Smartmixer.io Allow User-controlled fund-distribution?
Fund-distribution is the distribution of the total funds, to each individual address. Most mixers set this randomly for each address, Smartmixer doesn't.
Smartmixer again grants users 100% control on deciding which address gets exactly how much funds.
Users can set the distribution using sliders (as shown in the video). The mixer also displays the exact amount each address will receive corresponding to the % set by the user.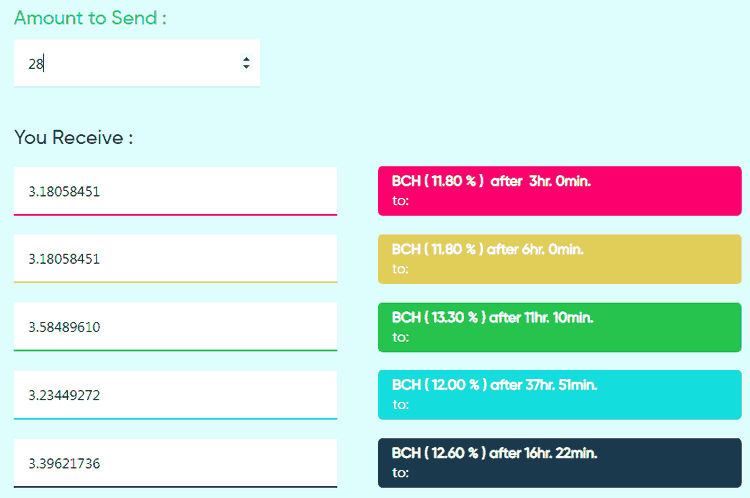 This keeps thing transparent and prevents any calculations mishaps, so you can send the exact funds to the exact address without needing to be a math-genius (I clearly am not one!).
How much Fee does Smartmixer Charge? Is the Fee User-Controlled?
If you've gone through any of our other Bitcoin mixer reviews, you'd notice that most mixers charge a fee between 0.5%-3%.
Well, Smartmixer is slightly pricey in this case. It charges a minimum 1% and a maximum of 5% fee for its mixes.
Then each additional address too will have its network fee. This network fee isn't charged by Smartmixer, but the network miners who make the transaction possible.
Every extra address on Smartmixer is charged:
00045529 BTC for Bitcoin.
01072904 LTC for Litecoin.
0.00273174 BCH for Bitcoin Cash.
The fee is completely controlled by the user, they can choose to pay anything between the minimum-maximum limits using the sliders on the mixing-interface.
This fee also decides which pool gets assigned to a mix.
Even though the fee does seem comparatively  higher, note that the user-control on every aspect of the mix, the coin-pools and other anonymity-boosting features do somewhat justify it.
What are the Minimum/Maximum Limits and Confirmation Requirements?
As mentioned in the earlier part of this Smartmixer.io review, the platform seems to be build even for the first-timers.
Hence, the minimum limit is set low and accepts deposits as small as 0.001 BTC for Bitcoin. It's 0.01 BCH for Bitcoin Cash and 0.01 LTC for Litecoin.
The maximum limits too are lucrative, although I've seen it change at each mix which indicates it depends on the platform's reserves and isn't static.
However, almost always it's over or near 100+ BTC for Bitcoin, 700+ LTC for Litecoin and around 400+ BTCH for Bitcoin Cash.

As for the number of confirmations, its F.A.Q mentions that the platform requires 3 confirmations for the mixes to be processed.
Conclusion
I've tried my best to bring out as many features and details about the mixer in this Smartmixer.io review. As for my personal verdict, I'd say that it's extremely feature-rich.
The UI is extremely easy (and fun to some extent) to use. Is as anonymous as a mixer can get with its policies, registration requirements and coin pools. The fee is acceptable even though not very welcoming.
In my opinion,  the mixer does deserve a trial in the least and if the features suit your needs a longer commitment may be decided. Anyway do let me know if this Smartmixer.io review helped you in the least possible ways?